Important. Due to unstable operation of the servers, customer complaints are not accepted, and no refunds can be provided.
Magma Tool Server Credits are intended for Magma Tool service software.
Magma Tool is a brand new software for decoding Samsung devices in one click.
Note! Please indicate the email you registered at magma-tool.com while your order.
How to register at magma-tool.com?
Supported Features:
Magma Network Tool
Easiest tool to decode OneUI and TouchWiz Devices Network in one click
Simple user interface with no need to activate account
Android devices supported up to Android 10
One exe file and no need to install or use external files
Permanent decoding without any relock problems
Magma FRP Tool
Reset FRP and all account types for all OneUI and TouchWiz devices
Latest security types supported
No ADB needed, service via MTP Mode
One click feature, takes less than 1 minute
All countries supported
Magma MSL Tool
Repair original IMEI with certificate (if it's damaged)
Supports stock firmwares without root
No patch cert needed
Permanent Repair
Simple interface with one click only feature
Support for Exynos, Qualcomm, JDM, automatic detection without complicated options
Supported Models:
S9 SM-G960U – 15 credits
S9+ SM-G965U – 15 credits
J3 Achieve SM-J337P – 13 credits
J7 Refine SM-J737P – 13 credits
J7 Perx SM-J727P – 7 credits
A6 SM-A600P – 7 credits
S10e SM-G970U – 15 credits
S10 SM-G973U – 15 credits
S10+ SM-G975U – 15 credits
S10 5G SM-G977P – 15 credits
A10e SM-A102U – 12 credits
A20 SM-A205U – 10 credits
A50 SM-A505U – 12 credits
Note9 SM-N960U – 12 credits
S20 SM-G981U – 25 credits
S20+ SM-G986U – 25 credits
S20 Ultra SM-G988U – 25 credits
Note10 SM-N970U – 13 credits
Note10+ SM-N975U – 15 credits
Note10+ 5G SM-N976U – 25 credits
A51 SM-A515U – 20 credits
A51 5G SM-A516U – 20 credits
A71 5G SM-A716U – 20 credits
S9 SM-G960U1 – 15 credits
S9+ SM-G965U1 – 15 credits
S10e SM-G970U1 – 15 credits
S10 SM-G973U1 – 15 credits
S10+ SM-G975U1 – 15 credits
A10e SM-A102U1 – 12 credits
A20 SM-A205U1 – 12 credits
A50 SM-A505U1 – 12 credits
Note9 SM-N960U1 – 15 credits
S20 SM-G981U1 – 25 credits
S20+ SM-G986U1 – 25 credits
S20 Ultra SM-G988U1 – 25 credits
Note10 SM-N970U1 – 13 credits
Note10+ SM-N975U1 – 15 credits
A51 SM-A515U1 – 20 credits
A51 5G SM-A516U1 – 20 credits
A71 5G SM-A716U1 – 20 credits
Note20 Ultra 5G SM-N986U – 25 credits
Note20 Ultra 5G SM-N986U1 – 25 credits
Galaxy A71 5G SM-A716U – 18 credits
Galaxy A71 5G SM-A716U1 – 18 credits
Galaxy A21 SM-A215U – 15 credits
Galaxy A21 SM-A215U1 – 15 credits
Galaxy Z Fold 2 SM-F916U – 25 credits
Galaxy Z Fold 2 SM-F916U1 – 25 credits
Galaxy S20 FE SM-G781U – 25 credits
Galaxy S20 FE SM-G781U1 – 25 credits
Galaxy Z Flip 5G SM-F707U – 25 credits
Galaxy Z Flip 5G SM-F707U1 – 25 credits
Galaxy Tab S7 Plus 5G SM-T978U – 25 credits
Galaxy Tab S7 5G SM-T878U – 25 credits
Galaxy S10 Lite SM-G770U1 – 25 credits
Galaxy Tab A 8.4 SM-T307U – 20 credits
Galaxy Tab A 2018 SM-T387P – 12 credits
Galaxy Tab A (2019) SM-T517P – 12 credits
Galaxy Tab A 10.1 inches SM-T587P – 12 credits
Galaxy Tab A 10.5 SM-T597P – 12 credits
Galaxy Tab S5e SM-T727P – 12 credits
Galaxy Tab S4 SM-T837P – 12 credits
Galaxy Tab S6 LTE SM-T867U – 25 credits
GALAXY S6 EDGE SM-G925P – 8 credits
GALAXY S7 EDGE SM-G935P – 8 credits
GALAXY S7 SM-G930P – 8 credits
GALAXY S8 SM-G950U – 8 credits
GALAXY S SM-G950U1 – 8 credits
GALAXY S8 Plus SM-G955U – 8 credits
GALAXY S8 Plus SM-G955U1 – 8 credits
Galaxy A70 SM-A705U – 10 credits
Galaxy Z Flip SM-F700U – 28 credits
Galaxy Z Flip SM-F700U1 – 25 credits
Note20 SM-N981U – 25 credits
Galaxy NOTE 8 SM-N950U – 8 credits
Galaxy NOTE 8 SM-N950U1 – 8 credits
Galaxy A01 SM-A013F – 30 credits
Galaxy A01 SM-A013G – 30 credits
Galaxy A01 SM-A013M – 30 credits
Galaxy A01 SM-A015A – 30 credits
Galaxy A01 SM-A015AZ – 30 credits
Galaxy A01 SM-A015F – 20 credits
Galaxy A01 SM-A015G – 30 credits
Galaxy A01 SM-A015M – 30 credits
Galaxy A01 SM-A015T1 – 30 credits
Galaxy A01 SM-A015U – 30 credits
Galaxy A01 SM-A015U1 – 30 credits
Galaxy A01 SM-A015V – 30 credits
Galaxy A10E SM-A102D – 20 credits
Galaxy A10E SM-A102J – 20 credits
Galaxy A10E SM-A102N – 20 credits
Galaxy A10E SM-A102U – 20 credits
Galaxy A10E SM-A102U1 – 20 credits
Galaxy A10E SM-A102W – 20 credits
Galaxy A10 SM-A105F – 3 credits
Galaxy A10 SM-A105FN – 3 credits
Galaxy A10 SM-A105G – 3 credits
Galaxy A10 SM-A105M – 3 credits
Galaxy A10 SM-A105N – 3 credits
Galaxy A11 SM-A115A – 30 credits
Galaxy A11 SM-A115AP – 30 credits
Galaxy A11 SM-A115AZ – 30 credits
Galaxy A11 SM-A115F – 5 credits
Galaxy A11 SM-A115M – 5 credits
Galaxy A11 SM-A115U – 30 credits
Galaxy A11 SM-A115U1 – 30 credits
Galaxy A11 SM-A115W – 30 credits
Galaxy A20E SM-A202F – 3 credits
Galaxy A20E SM-A202J – 20 credits
Galaxy A20E SM-A202K – 20 credits
Galaxy A20 SM-A205F – 3 credits
Galaxy A20 SM-A205FN – 3 credits
Galaxy A20 SM-A205G – 3 credits
Galaxy A20 SM-A205GN – 3 credits
Galaxy A20 SM-A205S – 20 credits
Galaxy A20 SM-A205U – 20 credits
Galaxy A20 SM-A205U1 – 20 credits
Galaxy A20 SM-A205W – 20 credits
Galaxy A20 SM-A205YN – 3 credits
Galaxy A20S SM-A2070 – 20 credits
Galaxy A20S SM-A207F – 5 credits
Galaxy A20S SM-A207M – 5 credits
Galaxy A21 SM-A215U – 30 credits
Galaxy A21 SM-A215U1 – 30 credits
Galaxy A21 SM-A215W – 30 credits
Galaxy A21S SM-A217F – 20 credits
Galaxy A21S SM-A217M – 20 credits
Galaxy A21S SM-A217N – 20 credits
Galaxy A40S SM-A3050 – 3 credits
Galaxy A40S SM-A3051 – 3 credits
Galaxy A40S SM-A3058 – 3 credits
Galaxy A30 SM-A305F – 3 credits
Galaxy A30 SM-A305FN – 3 credits
Galaxy A30 SM-A305G – 3 credits
Galaxy A30 SM-A305GN – 3 credits
Galaxy A30 SM-A305GT – 3 credits
Galaxy A30 SM-A305J – 3 credits
Galaxy A30 SM-A305JX – 3 credits
Galaxy A30 SM-A305N – 20 credits
Galaxy A30 SM-A305YN – 3 credits
Galaxy A30S SM-A307F – 3 credits
Galaxy A30S SM-A307FN – 3 credits
Galaxy A30S SM-A307G – 3 credits
Galaxy A30S SM-A307GN – 3 credits
Galaxy A30S SM-A307GT – 3 credits
Galaxy A50 SM-A505F – 3 credits
Galaxy A50 SM-A505FM – 3 credits
Galaxy A50 SM-A505FN – 3 credits
Galaxy A50 SM-A505G – 3 credits
Galaxy A50 SM-A505GN – 3 credits
Galaxy A50 SM-A505GT – 3 credits
Galaxy A50 SM-A505N – 3 credits
Galaxy A50 SM-A505U – 35 credits
Galaxy A50 SM-A505U1 – 35 credits
Galaxy A50 SM-A505W – 35 credits
Galaxy A50 SM-A505X – 3 credits
Galaxy A50 SM-A505YN – 3 credits
Galaxy A50S SM-A5070 – 40 credits
Galaxy A50S SM-A507FN – 40 credits
Galaxy A51 SM-A515F – 3 credits
Galaxy A51 SM-A515U – 25 credits
Galaxy A51 SM-A515U1 – 25 credits
Galaxy A51 SM-A515W – 25 credits
Galaxy A51 SM-A515X – 3 credits
Galaxy A51 5G SM-A5160 – 50 credits
Galaxy A51 5G SM-A516B – 50 credits
Galaxy A51 5G SM-A516D – 50 credits
Galaxy A51 5G SM-A516J – 50 credits
Galaxy A51 5G SM-A516N – 50 credits
Galaxy A51 5G SM-A516U – 50 credits
Galaxy A51 5G SM-A516U1 – 50 credits
Galaxy A51 5G SM-A516V – 50 credits
Galaxy A70 SM-A705F – 5 credits
Galaxy A70 SM-A705GM – 5 credits
Galaxy A70 SM-A705MN – 5 credits
Galaxy A70 SM-A705U – 25 credits
Galaxy A70 SM-A705W – 25 credits
Galaxy A70 SM-A705X – 5 credits
Galaxy A70 SM-A705XC – 5 credits
Galaxy A70 SM-A705YN – 5 credits
Galaxy A70S SM-A7070 – 40 credits
Galaxy A70S SM-A707F – 40 credits
Galaxy A71 SM-A715F – 5 credits
Galaxy A71 SM-A715FN – 5 credits
Galaxy A71 SM-A715GM – 5 credits
Galaxy A71 SM-A715MN – 5 credits
Galaxy A71 SM-A715W – 25 credits
Galaxy A71 SM-A715X – 5 credits
Galaxy A71 5G SM-A7160 – 65 credits
Galaxy A71 5G SM-A716B – 65 credits
Galaxy A71 5G SM-A716S – 65 credits
Galaxy A71 5G SM-A716U – 65 credits
Galaxy A71 5G SM-A716U1 – 65 credits
Galaxy A71 5G SM-A716V – 65 credits
Galaxy A8 PLUS SM-A730X – 3 credits
Galaxy A7 2018 SM-A750C – 3 credits
Galaxy A7 2018 SM-A750F – 3 credits
Galaxy A7 2018 SM-A750FN – 3 credits
Galaxy A7 2018 SM-A750G – 3 credits
Galaxy A7 2018 SM-A750GN – 3 credits
Galaxy A7 2018 SM-A750N – 3 credits
Galaxy A7 2018 SM-A750X – 3 credits
Galaxy A80 SM-A805F – 3 credits
Galaxy A80 SM-A805N – 3 credits
Galaxy A80 SM-A805X – 3 credits
Galaxy A80 SM-A805XC – 3 credits
Galaxy A90 SM-A9050 – 20 credits
Galaxy A90 SM-A905F – 5 credits
Galaxy A90 SM-A905N – 5 credits
Galaxy A90 SM-A905X – 5 credits
Galaxy A90 SM-A905XC – 5 credits
Galaxy A90 5G SM-A9080 – 50 credits
Galaxy A90 5G SM-A908B – 50 credits
Galaxy A90 5G SM-A908N – 50 credits
Galaxy A91 SM-A915F – 20 credits
Galaxy A91 SM-A915X – 20 credits
Galaxy A9 2018 SM-A9200 – 5 credits
Galaxy A9 2018 SM-A920F – 3 credits
Galaxy A9 2018 SM-A920N – 3 credits
Galaxy A9 2018 SM-A920X – 3 credits
Galaxy A9 2018 SM-A920XC – 3 credits
Galaxy F41 SM-F415F – 60 credits
Galaxy Z Flip SM-F7000 – 50 credits
Galaxy Z Flip SM-F700F – 50 credits
Galaxy Z Flip SM-F700J – 50 credits
Galaxy Z Flip SM-F700N – 50 credits
Galaxy Z Flip SM-F700U – 50 credits
Galaxy Z Flip SM-F700U1 – 50 credits
Galaxy Z Flip SM-F700W – 50 credits
Galaxy Z Flip SM-F7070 – 50 credits
Galaxy Z Flip 5G SM-F707B – 50 credits
Galaxy Z Flip 5G SM-F707J – 50 credits
Galaxy Z Flip 5G SM-F707N – 50 credits
Galaxy Z Flip 5G SM-F707U – 50 credits
Galaxy Z Flip 5G SM-F707U1 – 50 credits
Galaxy Z Flip 5G SM-F707W – 50 credits
Galaxy FOLD SM-F9000 – 50 credits
Galaxy FOLD SM-F900D – 50 credits
Galaxy FOLD SM-F900F – 50 credits
Galaxy FOLD SM-F900J – 50 credits
Galaxy FOLD SM-F900N – 50 credits
Galaxy FOLD SM-F900U – 50 credits
Galaxy FOLD SM-F900U1 – 50 credits
Galaxy FOLD SM-F900W – 50 credits
Galaxy FOLD 5G SM-F907B – 50 credits
Galaxy FOLD 5G SM-F907N – 50 credits
Galaxy Z Fold2 5G SM-F9160 – 50 credits
Galaxy Z Fold2 5G SM-F916B – 50 credits
Galaxy Z Fold2 5G SM-F916J – 50 credits
Galaxy Z Fold2 5G SM-F916N – 50 credits
Galaxy Z Fold2 5G SM-F916U – 50 credits
Galaxy Z Fold2 5G SM-F916U1 – 50 credits
Galaxy Z Fold2 5G SM-F916W – 50 credits
Galaxy S9 SM-G9600 – 19 credits
Galaxy S9 SM-G9608 – 19 credits
Galaxy S9 SM-G960D – 19 credits
Galaxy S9 SM-G960F – 3 credits
Galaxy S9 SM-G960J – 20 credits
Galaxy S9 SM-G960N – 3 credits
Galaxy S9 SM-G960U – 19 credits
Galaxy S10 LITE SM-G770F – 4 credits
Galaxy S10 LITE SM-G770U1 – 25 credits
Galaxy S10 LITE SM-G770X – 5 credits
Galaxy S20 FE SM-G780F – 60 credits
Galaxy S20 FE SM-G7810 – 60 credits
Galaxy S20 FE 5G SM-G781B – 60 credits
Galaxy S20 FE 5G SM-G781N – 60 credits
Galaxy S20 FE 5G SM-G781U – 60 credits
Galaxy S20 FE 5G SM-G781U1 – 60 credits
Galaxy S20 FE 5G SM-G781V – 60 credits
Galaxy S20 FE 5G SM-G781W – 60 credits
Galaxy S9 SM-G960U1 – 19 credits
Galaxy S9 SM-G960W – 20 credits
Galaxy S9 SM-G960X – 4 credits
Galaxy S9 SM-G960XC – 4 credits
Galaxy S9 SM-G960XN – 4 credits
Galaxy S9 SM-G960XU – 19 credits
Galaxy S9 PLUS SM-G9650 – 20 credits
Galaxy S9 PLUS SM-G965D – 20 credits
Galaxy S9 PLUS SM-G965F – 3 credits
Galaxy S9 PLUS SM-G965J – 20 credits
Galaxy S9 PLUS SM-G965N – 3 credits
Galaxy S9 PLUS SM-G965U – 20 credits
Galaxy S9 PLUS SM-G965U1 – 20 credits
Galaxy S9 PLUS SM-G965W – 20 credits
Galaxy S9 PLUS SM-G965X – 3 credits
Galaxy S9 PLUS SM-G965XC – 3 credits
Galaxy S9 PLUS SM-G965XN – 3 credits
Galaxy S9 PLUS SM-G965XU – 20 credits
Galaxy S10E SM-G9700 – 40 credits
Galaxy S10E SM-G9708 – 40 credits
Galaxy S10E SM-G970F – 5 credits
Galaxy S10E SM-G970N – 5 credits
Galaxy S10E SM-G970U – 40 credits
Galaxy S10E SM-G970U1 – 40 credits
Galaxy S10E SM-G970W – 40 credits
Galaxy S10E SM-G970X – 5 credits
Galaxy S10E SM-G970XC – 30 credits
Galaxy S10E SM-G970XN – 5 credits
Galaxy S10E SM-G970XU – 40 credits
Galaxy S10 SM-G9730 – 40 credits
Galaxy S10 SM-G9738 – 40 credits
Galaxy S10 SM-G973C – 40 credits
Galaxy S10 SM-G973D – 40 credits
Galaxy S10 SM-G973F – 40 credits
Galaxy S10 SM-G973J – 40 credits
Galaxy S10 SM-G973N – 40 credits
Galaxy S10 SM-G973U – 40 credits
Galaxy S10 SM-G973U1 – 40 credits
Galaxy S10 SM-G973W – 40 credits
Galaxy S10 SM-G973X – 40 credits
Galaxy S10 SM-G973XC – 40 credits
Galaxy S10 SM-G973XN – 40 credits
Galaxy S10 SM-G973XU – 40 credits
Galaxy S10 PLUS SM-G9750 – 40 credits
Galaxy S10 PLUS SM-G9758 – 40 credits
Galaxy S10 PLUS SM-G975D – 40 credits
Galaxy S10 PLUS SM-G975DS – 40 credits
Galaxy S10 PLUS SM-G975F – 40 credits
Galaxy S10 PLUS SM-G975J – 40 credits
Galaxy S10 PLUS SM-G975N – 40 credits
Galaxy S10 PLUS SM-G975U – 40 credits
Galaxy S10 PLUS SM-G975U1 – 40 credits
Galaxy S10 PLUS SM-G975W – 40 credits
Galaxy S10 PLUS SM-G975X – 40 credits
Galaxy S10 PLUS SM-G975XC – 40 credits
Galaxy S10 PLUS SM-G975XN – 40 credits
Galaxy S10 PLUS SM-G975XU – 40 credits
Galaxy S10 5G SM-G977B – 40 credits
Galaxy S10 5G SM-G977N – 40 credits
Galaxy S10 5G SM-G977P – 40 credits
Galaxy S10 5G SM-G977T – 40 credits
Galaxy S10 5G SM-G977U – 40 credits
Galaxy S20 SM-G9810 – 40 credits
Galaxy S20 5G SM-G981B – 40 credits
Galaxy S20 5G SM-G981D – 40 credits
Galaxy S20 5G SM-G981J – 40 credits
Galaxy S20 5G SM-G981N – 40 credits
Galaxy S20 5G SM-G981U – 40 credits
Galaxy S20 5G SM-G981U1 – 40 credits
Galaxy S20 5G SM-G981V – 40 credits
Galaxy S20 5G SM-G981W – 40 credits
Galaxy S20 PLUS SM-G985F – 10 credits
Galaxy S20 PLUS 5G SM-G9860 – 40 credits
Galaxy S20 PLUS 5G SM-G986B – 40 credits
Galaxy S20 PLUS SM-G986D – 40 credits
Galaxy S20 PLUS SM-G986F – 10 credits
Galaxy S20 PLUS SM-G986J – 40 credits
Galaxy S20 PLUS SM-G986N – 40 credits
Galaxy S20 PLUS SM-G986U – 40 credits
Galaxy S20 PLUS SM-G986U1 – 40 credits
Galaxy S20 PLUS SM-G986W – 40 credits
Galaxy S20 ULTA 5G SM-G9880 – 40 credits
Galaxy S20 ULTA 5G SM-G988B – 40 credits
Galaxy S20 ULTA 5G SM-G988BR – 40 credits
Galaxy S20 ULTA 5G SM-G988J – 40 credits
Galaxy S20 ULTA 5G SM-G988N – 40 credits
Galaxy S20 ULTA 5G SM-G988U – 40 credits
Galaxy S20 ULTA 5G SM-G988U1 – 40 credits
Galaxy S20 ULTA 5G SM-G988W – 40 credits
Galaxy J8 SM-J810F – 5 credits
Galaxy J8 SM-J810G – 5 credits
Galaxy J8 SM-J810GF – 5 credits
Galaxy J8 SM-J810M – 5 credits
Galaxy J8 SM-J810MF – 5 credits
Galaxy J8 SM-J810Y – 5 credits
Galaxy J6 PLUS SM-J610F – 3 credits
Galaxy J6 PLUS SM-J610FN – 3 credits
Galaxy J6 PLUS SM-J610G – 3 credits
Galaxy J4 CORE SM-J410F – 3 credits
Galaxy J4 CORE SM-J410G – 3 credits
Galaxy J4 PLUS SM-J415F – 3 credits
Galaxy J4 PLUS SM-J415FN – 3 credits
Galaxy J4 PLUS SM-J415G – 3 credits
Galaxy J4 PLUS SM-J415GN – 3 credits
Galaxy J4 PLUS SM-J415N – 3 credits
Galaxy M01 SM-M013F – 40 credits
Galaxy M01 SM-M015F – 40 credits
Galaxy M01 SM-M015G – 40 credits
Galaxy M01 SM-M017F – 40 credits
Galaxy M10 SM-M105F – 3 credits
Galaxy M10 SM-M105G – 3 credits
Galaxy M10 SM-M105M – 3 credits
Galaxy M10 SM-M105Y – 3 credits
Galaxy M10S SM-M107F – 3 credits
Galaxy M10S SM-M107G – 3 credits
Galaxy M10S SM-M107Y – 3 credits
Galaxy M11 SM-M115F – 40 credits
Galaxy M11 SM-M115M – 40 credits
Galaxy M20 SM-M205F – 3 credits
Galaxy M20 SM-M205FN – 3 credits
Galaxy M20 SM-M205G – 3 credits
Galaxy M20 SM-M205M – 3 credits
Galaxy M20 SM-M205N – 3 credits
Galaxy M21 SM-M215F – 3 credits
Galaxy M30 SM-M305F – 3 credits
Galaxy M30 SM-M305M – 3 credits
Galaxy M30S SM-M3070 – 3 credits
Galaxy M30S SM-M307F – 3 credits
Galaxy M30S SM-M307FN – 3 credits
Galaxy M31 SM-M315F – 3 credits
Galaxy M30S SM-M317F – 3 credits
Galaxy M40 SM-M405F – 7 credits
Galaxy M51 SM-M515F – 20 credits
Galaxy NOTE 9 SM-N9600 – 20 credits
Galaxy NOTE 9 SM-N960D – 20 credits
Galaxy NOTE 9 SM-N960F – 6 credits
Galaxy NOTE 9 SM-N960J – 6 credits
Galaxy NOTE 9 SM-N960N – 6 credits
Galaxy NOTE 9 SM-N960U – 20 credits
Galaxy NOTE 9 SM-N960U1 – 20 credits
Galaxy NOTE 9 SM-N960W – 20 credits
Galaxy NOTE 9 SM-N960X – 6 credits
Galaxy NOTE 10 LITE SM-N770F – 3 credits
Galaxy NOTE 10 LITE SM-N770X – 3 credits
Galaxy NOTE 10 SM-N9700 – 40 credits
Galaxy NOTE 10 SM-N970F – 6 credits
Galaxy NOTE 10 SM-N970U – 40 credits
Galaxy NOTE 10 SM-N970U1 – 40 credits
Galaxy NOTE 10 SM-N970W – 40 credits
Galaxy NOTE 10 SM-N970X – 6 credits
Galaxy NOTE 10 5G SM-N971N – 40 credits
Galaxy NOTE 10 5G SM-N971XN – 40 credits
Galaxy NOTE 10 PLUS SM-N9750 – 40 credits
Galaxy NOTE 10 PLUS SM-N975C – 40 credits
Galaxy NOTE 10 PLUS SM-N975D – 40 credits
Galaxy NOTE 10 PLUS SM-N975F – 6 credits
Galaxy NOTE 10 PLUS SM-N975J – 40 credits
Galaxy NOTE 10 PLUS SM-N975U – 40 credits
Galaxy NOTE 10 PLUS SM-N975U1 – 40 credits
Galaxy NOTE 10 PLUS SM-N975VU – 40 credits
Galaxy NOTE 10 PLUS SM-N975W – 40 credits
Galaxy NOTE 10 PLUS SM-N975X – 6 credits
Galaxy NOTE 10 PLUS 5G SM-N9760 – 40 credits
Galaxy NOTE 10 PLUS 5G SM-N976B – 40 credits
Galaxy NOTE 10 PLUS 5G SM-N976N – 40 credits
Galaxy NOTE 10 PLUS 5G SM-N976Q – 40 credits
Galaxy NOTE 10 PLUS 5G SM-N976U – 40 credits
Galaxy NOTE 10 PLUS 5G SM-N976V – 40 credits
Galaxy NOTE 10 PLUS 5G SM-N976VU – 40 credits
Galaxy NOTE 10 PLUS 5G SM-N976XC – 40 credits
Galaxy NOTE 10 PLUS 5G SM-N976XN – 40 credits
Galaxy NOTE 10 PLUS 5G SM-N976XU – 40 credits
Galaxy NOTE 20 SM-N980F – 60 credits
Galaxy NOTE 20 5G SM-N9810 – 60 credits
Galaxy NOTE 20 5G SM-N981B – 60 credits
Galaxy NOTE 20 5G SM-N981N – 60 credits
Galaxy NOTE 20 5G SM-N981U – 60 credits
Galaxy NOTE 20 5G SM-N981U1 – 60 credits
Galaxy NOTE 20 5G SM-N981W – 60 credits
Galaxy NOTE 20 ULTRA SM-N985F – 60 credits
Galaxy NOTE 20 ULTRA 5G SM-N9860 – 60 credits
Galaxy NOTE 20 ULTRA 5G SM-N986B – 60 credits
Galaxy NOTE 20 ULTRA 5G SM-N986D – 60 credits
Galaxy NOTE 20 ULTRA 5G SM-N986J – 60 credits
Galaxy NOTE 20 ULTRA 5G SM-N986N – 60 credits
Galaxy NOTE 20 ULTRA 5G SM-N986U – 60 credits
Galaxy NOTE 20 ULTRA 5G SM-N986U1 – 60 credits
Galaxy NOTE 20 ULTRA 5G SM-N986W – 60 credits
Galaxy A31 SM-A315F – 3 credits
Galaxy A31 SM-A315G – 3 credits
Galaxy A41 SM-A405FN – 30 credits
Galaxy A10E SM-S102DL – 20 credits
Galaxy Tab A (8.0", 2019) SM-T295 – 5 credits
Galaxy Tab A (8.0", 2019) SM-T295N – 5 credits
Galaxy Tab A (8.0", 2019) SM-T295C – 5 credits
Galaxy Tab A SM-T387AA – 20 credits
Galaxy Tab A SM-T387P – 20 credits
Galaxy Tab A SM-T387R4 – 20 credits
Galaxy Tab A SM-T387T – 20 credits
Galaxy Tab A SM-T387V – 20 credits
Galaxy Tab A SM-T387VK – 20 credits
Galaxy Tab A SM-T387W – 20 credits
Galaxy Tab S2 SM-T719 – 20 credits
Galaxy Tab S2 SM-T719C – 20 credits
Galaxy Tab S2 SM-T719Y – 20 credits
Galaxy Tab S5E SM-T725 – 20 credits
Galaxy Tab S5E SM-T725C – 20 credits
Galaxy Tab S5E SM-T725N – 20 credits
Galaxy Tab S5E LITE SM-T727 – 20 credits
Galaxy Tab S5E LITE SM-T727A – 20 credits
Galaxy Tab S5E LITE SM-T727R4 – 20 credits
Galaxy Tab S5E LITE SM-T727U – 20 credits
Galaxy Tab S5E LITE SM-T727V – 20 credits
Galaxy Tab S3 SM-T825 – 20 credits
Galaxy Tab S3 SM-T825C – 20 credits
Galaxy Tab S3 SM-T825N0 – 20 credits
Galaxy Tab S3 SM-T825Y – 20 credits
Galaxy Tab S4 SM-T837 – 20 credits
Galaxy Tab S4 SM-T837A – 20 credits
Galaxy Tab S4 SM-T837P – 20 credits
Galaxy Tab S4 SM-T837R4 – 20 credits
Galaxy Tab S4 SM-T837T – 20 credits
Galaxy Tab S4 SM-T837V – 20 credits
Galaxy Tab S6 LITE SM-T867 – 30 credits
Galaxy Tab S6 LITE SM-T867R4 – 30 credits
Galaxy Tab S6 LITE SM-T867U – 30 credits
Galaxy Tab S6 LITE SM-T867V – 30 credits
Galaxy A10E SM-A102DL – 20 credits
Galaxy A70 SM-A705FN – 5 credits
Galaxy A10 SM-A105U – 25 credits
Galaxy S20 SM-G980F – 40 credits
Galaxy S20 SM-G980X – 40 credits
Galaxy A20 SM-S205DL – 20 credits
Galaxy A21 SM-S215dl – 30 credits
Galaxy A2 Core SM-A260F – 6 credits
Galaxy A50 SM-S506DL – 40 credits
Galaxy A6+ SM-A605FN – 10 credits
Galaxy A51 SM-S515DL – 25 credits
Galaxy A6+ SM-A6050 – 10 credits
Galaxy A6+ SM-A605F – 10 credits
Galaxy A6+ SM-A605G – 10 credits
Galaxy A70 SM-A7050 – 5 credits
Galaxy J7 2018 SM-J737A – 25 credits
Galaxy A6+ SM-A605GN – 10 credits
Galaxy A6 SM-A6060 – 10 credits
Galaxy A20 SCV46 – 20 credits
Galaxy A10s SM-A107F – 5 credits
Galaxy A10s SM-A107M – 5 credits
Galaxy A30 SCV43 – 20 credits
Galaxy SM-A260G – 20 credits
How to Create a User Account
Download the Magma Network Tool software
Run this software.
Indicate your Email and Password. Click Register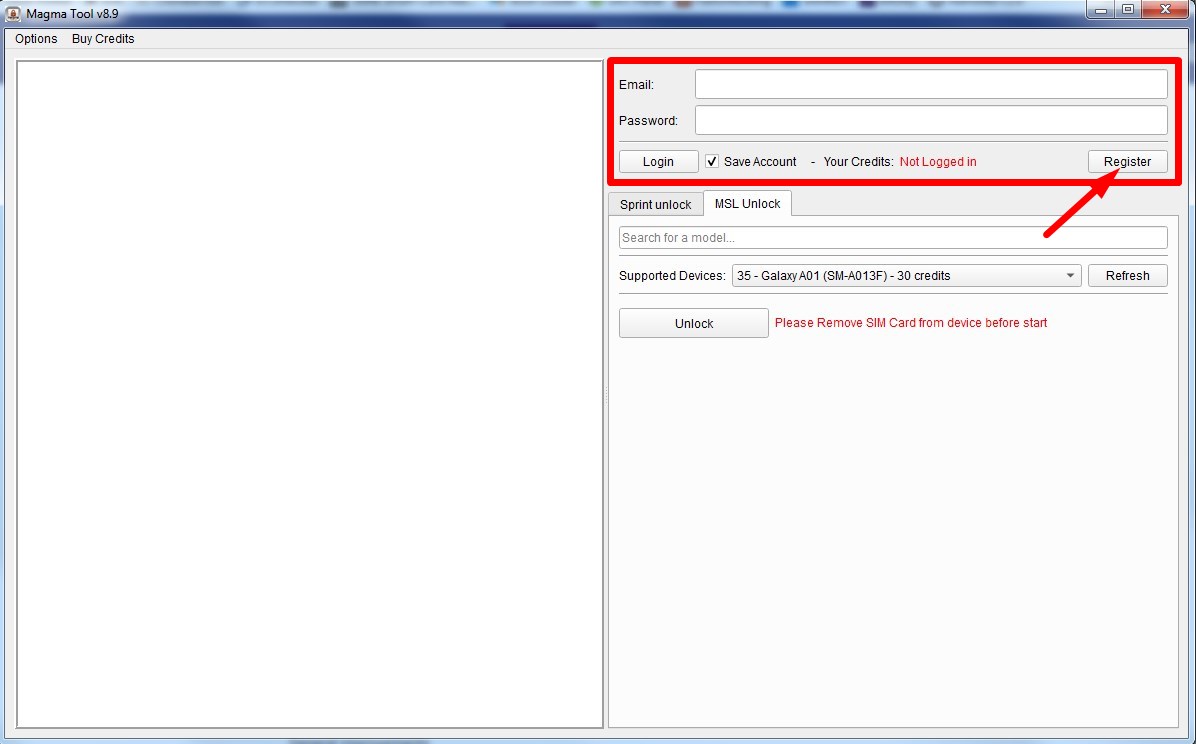 Indicate this email while buying Magma Tool Server Credits at gsmserver.com
After your order is completed, we will send a notification to you email.
Now you can login to your account and start using the software